Clinical Psychology and Social Support in the York Hull Adult Cystic Fibrosis Centre
At the York Hull Adult CF Unit we believe it is important to address all aspects of your healthcare and treatment. As part of this, the Centre has 2 part-time clinical psychologists.
What is a clinical psychologist?
A clinical psychologist works with people who are having difficulties in their life and would like help in coping with them. Clinical psychologists are trained to use different models of therapy to help people talk about and tackle emotional problems, but do not use medication.
When may it be helpful to see a clinical psychologist and what sort of problems can they help with?
Living with a chronic illness like CF as well as other life stresses can be very difficult. How you cope with one aspect of your life can affect how you cope with having CF and its treatment, and vice versa. 
Many people find talking over their problems with someone is helpful. This might be a friend or relative, or might be one of the CF team who you feel you can talk to. This is often enough, but there may be times when you have a complex issue to deal with and need more help than they can offer, or have something you would like to discuss in private. A clinical psychologist can often help at these times.
Seeing a clinical psychologist definitely does not mean there is anything 'wrong' with a person psychologically. It simply means that a person is trying to improve their ways of coping with problems and they want to learn new skills.
What is involved?
If you are referred to psychology and you feel it will be helpful, then you will be offered an initial appointment. This is a time to talk through what difficulties you are experiencing and what you would like to get out of any potential further sessions. You could be offered some questionnaires to fill out to help explain how you are feeling, though completing them would be your choice.  
After this, you agree together on the goals of any future input, if any, and what this would involve. This is regularly reviewed throughout the work together.
Every effort is made to offer appointments alongside other CF out-patient appointments or during in-patient treatment if preferred, though this may not always be possible. Equally, some people prefer to be seen away from the ward and separate to other appointments.
Will it affect my medical care if I do not want to see the clinical psychologist?
If someone in the team feels it would be helpful for you to see the clinical psychologist, but you decide you do not want to, then that is your right. This decision will not affect your medical care or a re-referral in the future.  Often people are very unsure about seeing a psychologist at first and it may be helpful to have one appointment to see if it is for you or not and then decide.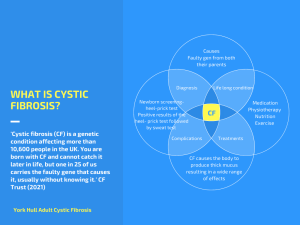 MDT clinics and annual reviews
You may see clinical psychologist at some MDT clinics though they won't always be able to attend these. Once a year at the time of your annual review our clinical psychologist will get in touch to offer you a longer conversation about how things are for you, any goals you want to think about for the year ahead and any support that could be helpful.
How can I be referred to see the clinical psychologist?
Anyone in the CF team or your GP can make a referral. Please talk to the CF team or directly to one of our clinical psychologist for any further information.