Transition             
There comes a time when you need the care of a team specialising in adults with CF, and the period as you move through to the adult service is called 'transition'. This usually happens between the ages of 16 and 18 years, but your paediatric team may have been talking about this with you for sometime before this.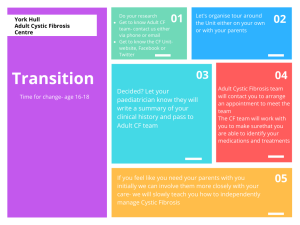 We understand that leaving the Cystic Fibrosis team in the paediatric unit and getting to know a new set of people and a new place can be daunting. If you have already been through the York or Scarborough paediatric service, you may already know a number of faces and a bit about how the adult clinics work. People join the York Adult CF Centre from a number of different routes, and we want to make that process as easy as possible for you.
You may already have seen our Twitter and Facebook accounts where we post various news and useful information, if not check us out!
Some of the team may have already come along to your old clinic and met you there. We are also very happy to organise individual tours of the outpatient department and the ward, on your own or with your parents, if you would like.
Once you decide that you want your adult CF care to be provided by us, your paediatrician usually writes a letter with a summary of your clinical history, and we'll arrange an appointment for you to come to a clinic and meet the team. If you have specific questions, please write them down and bring them with you, or contact us on the telephone or by email.
The Adult Cystic Fibrosis team will work with you to make sure that you are able to identify your medications and treatments for Cystic Fibrosis, and describe how your health has been since the last clinic visit or hospitalisation.
We recognize that initially, some of you may still wish to attend clinic with a parent and have them involved more closely with your care. We also hope to support you in becoming independent with the management of your Cystic Fibrosis.